The Dumbwaiter is a base appliance
Cost
60
Action(s)
Text
Connected together as if by magic
Effect
Transport: Teleports items to other dumbwaiters
The dumbwaiter is an appliance that can teleport items within it to another dumbwaiter.
At least 2 dumbwaiters needs to be present for its effect to be relevant.
All dumbwaiters share the same storage space, but only one dumbwaiter can be open at any given time.
Interact will close or open the appliance door.

When opening the door of one dumbwaiter, all other dumbwaiters will automatically close. Only 1 dumbwaiter can be open at any given time.
Cannot interact, grab, or set an item in the appliance while the door is closed. The appliance's door has to be open for the item inside to be interacted with.

Player can place any item on this appliance that can be carried, if the door is opened.
Player can combine food items on this appliance, if the door is opened.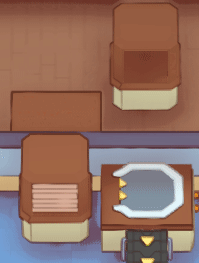 Dumbwaiters are useful in circumventing a limited serving counter space to pass an item from the kitchen to the servers.

For example, if the main serving counters are used up by the main recipe, this appliance can be used to pass starters/desserts through a different channel.

Due to how the Dumbwaiter requires a player to be physically next to it inorder to open it, this appliance provides little utility for a solo player.