Beans
60
Provides beans
Beans are an Ingredient used in the

Breakfast Beans Recipe. One Beans Provider is granted upon selecting (or continuing a Franchise with) the corresponding Card. They will also begin appearing as Blueprints.


Unlike other ingredients, Beans must be picked up in a Pot, either by hand or using a Portioner. They are prepared as detailed below. For further preparation steps, select the Recipe from the table.


Beans Provider


Interact
with Pot
Beans in Pot

Cook

8s
Cooked Beans

Breakfast Beans
To fill a pot with beans, place an empty Pot on top of a Portioner that is facing the Beans Provider.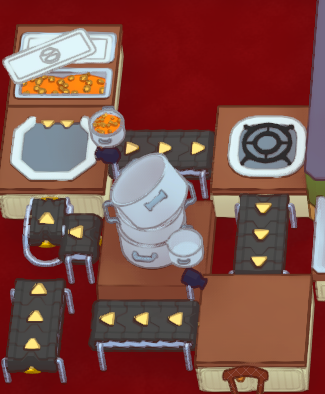 In the above example:
They're pulled off by a Smart Grabber to Cook on the upper-right.
A Smart Grabber on the bottom programmed to an Empty Pot will pull the pot off when there are no more servings left.
This process will continue, providing a constant source of Beans for you without needing to do anything except serve Beans.
Note: You can use one less Grabber by placing the Pot Stack in the lower-left corner as well and leave a hole in the middle.