The Fire Extinguisher is a base appliance
Cost
20
Action(s)
Text
Maybe you just need less fire
Effect
The fire extinguisher is a tool that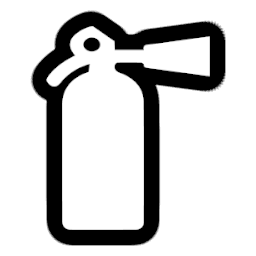 extinguish fire 5x faster for the holder.
Interact or Grab to pick up the tool.

While holding the tool and in front of the appliance, Interact to put the tool away. This tool cannot be set down on any other appliance.

Fire takes 3 seconds to be extinguished without this appliance, and 0.6 seconds with this appliance.
While the player is holding this tool, the player cannot hold another item, including other tools.
Player can Interact with items that does not require obtaining an item while holding this tool, like cleaning mess or chopping an ingredient.
Can only store a fire extinguisher on the appliance.
There are no upgrades available for this appliance.
As fires are not a common occurrence in most playthrough of the game, many people don't actually know how dangerous a fire really is. So here is information about fires, because only you can prevent wildfires.
¶ Where, who, and why is Fire?
In a normal game, fires can only be started through a Danger Hob burning an item or improper usage of the Microwave. But there have been unique restaurant settings in the past that made fire occur more often and through different methods.
Fires can spread to adjacent items or mess on the floor, but it cannot spread across rooms (including through serving windows or doors). Fire takes 3 seconds for a player to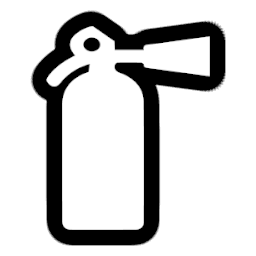 extinguished it, or 0.6 seconds if they are holding a Fire Extinguisher.
While a object is on fire, the object usually gains the following properties:
Prevents the appliance on fire and any item on that appliance from being interacted with from the player or from another appliance. This prevents an item from going though a process or allowing a player from manually using an appliance.

An appliance that functions automatically can still work while on fire, like a Teleportor or Grabber.
A player can still grab an item within a fire. This does include setting an item on a object that is on fire.

If the object provides an item (such as Plates, Sharp Knife, or Carrot Provider), a player cannot use the grab function with the provider.

This only applies to when a player tries to grab it. An appliance like a Grabber can still pull out the item from a provider.

If the object is a customer or table with customer sitting there, those customer's patience bar will decrease at a near instant rate.
In many ways, the game treats fire as an item that takes priority for interactions and that cannot be grabbed but can spread naturally by itself. In addition, it disables providers and has a major negative effect on customer's patience.
The rate of fire spreading is influenced by the amount of players in the game:
Further information: Multiplayer
1 player = 75%
2 players = 100%
3 players = 120%
4 players = 150%